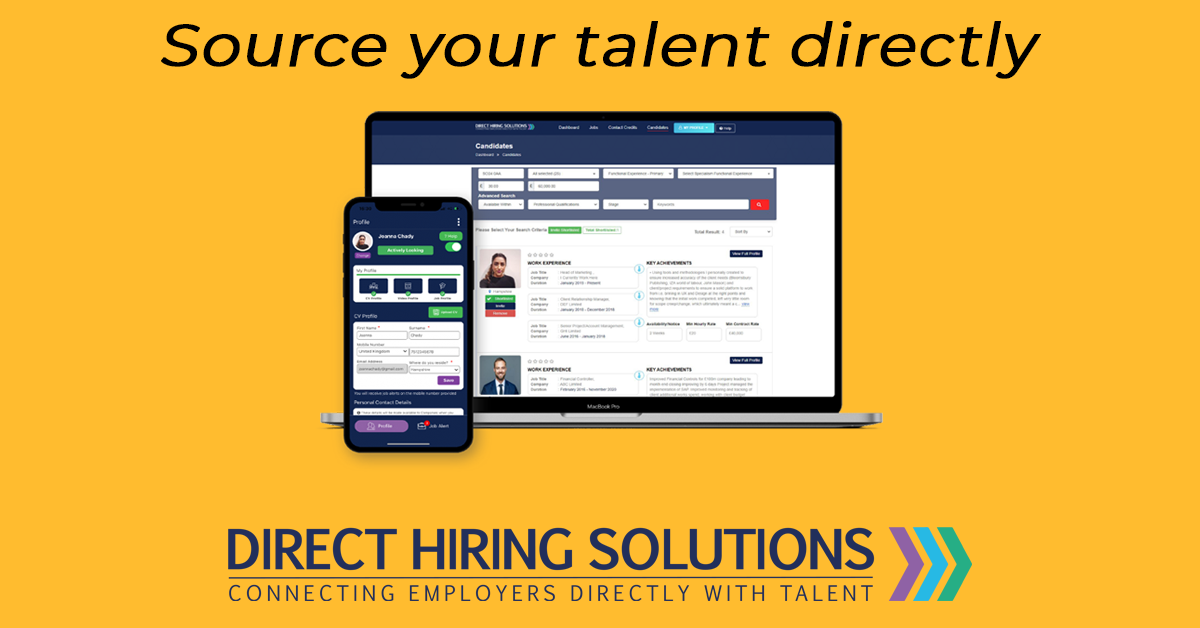 Direct Hiring Introduction
I am delighted to bring Direct Hiring Solutions into the recruitment market.  It has been a comprehensive 2 year project and I am delighted with the outcome.
Direct Hiring Solutions is a simple concept, but one that I am certain will change the way employers recruit and candidates find work.
The platform brings together the three main shifts in recruitment:
In-house recruitment – to support companies in gaining more control over their recruitment process and reduce recruitment spend
Flexible working – to support companies in adapting to a rapidly changing market and inject skills as required
Video technology – to support companies in being more efficient, speed up their recruitment processes and improve talent matching
The business comprises of two platforms:
Jobs2UDirect.com, is an online platform and app that enables candidates to promote their hard and soft skills directly to employers and DirectHiringSolutions.com which enables employers to view the CV and video profiles of relevant candidates and invite them to review their opportunity (which can also include videos on their company and opportunity).
When candidates are interested, they accept the invite making their contact details available to the employer. To invite a candidate the employer simply purchases contact credits for as little as £40 which are only spent when they receive a candidate's contact details.  Even if the candidate declines the invitation the employer is notified of the reason to support their search.
Matching is significantly enhanced by being able to filter applications and watch candidate video interview profiles.  What's even better is you only pay when you identify the candidates you are seeking, and when they in turn confirm their interest in your role.  To support this service, the platform also offers employers a free advertising service to both support permanent recruitment and to attract additional candidates to support their temporary, interim or graduate searches.
We are currently registering temporary staff, interim professionals and graduates onto the platform and will be opening the doors to employers shortly.  If you would like early access to the platform, we are currently partnering with selected employers to provide them with free contact credits.  If you would like to take advantage of this offer, then register at directhiringsolutions.com or contact Justine Hunter-Guest at justine@directhiringsolutions.com / 07812 635844. To find out about our affiliate or partner programs, register as an affiliate at jobs2udirect.com or contact Adam Jordan at adam@directhiringsolutions.com / 07513 934097.
The entire team very much looks forward to supporting your future recruitment strategy and I would welcome receiving any enquiries you may have regarding the platform.